10th Street North Improvements (19th Ave to 28th Ave)
Completed
Start: May 4, 2020
Estimated Completion: October 2020
Current Status:
Project work is substantially complete and all roads within the project area are fully open to traffic.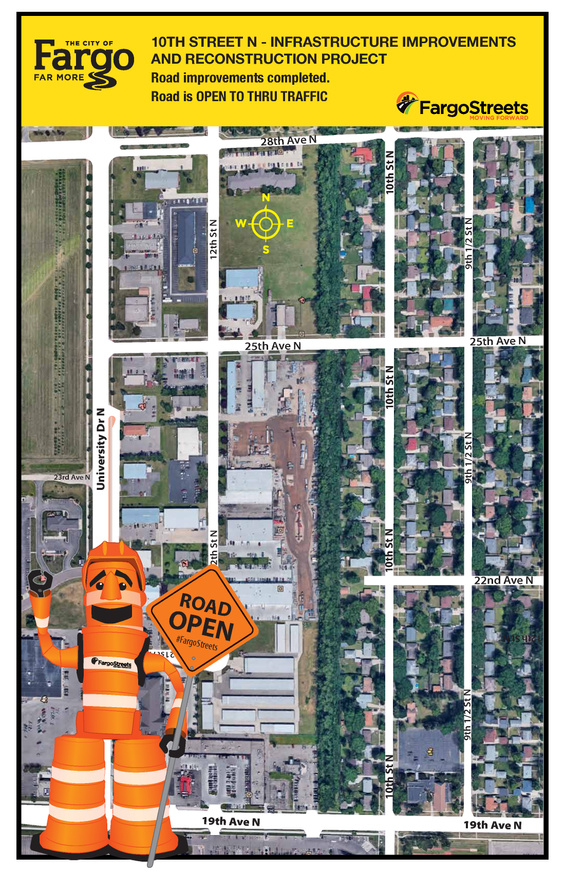 Project Overview:
Construction activities include the removal and replacement of the existing water main, sanitary sewer repairs, upgrades to the storm sewer system, new asphalt pavement, new concrete curb and gutter, and new street lights.
An informational meeting was held Thursday, February 20, 2020, at 5:30 PM in the City Commission Room at City Hall, 225 4th Street North, Fargo. The meeting was recorded and can be viewed below. Additionally, the meeting video and a PDF of the presentation slides can be viewed via the Project Resources section located on the right side of this page.
February 20, 2020 Public Information Meeting
Impacts:
The project will be constructed in phases to minimize local impacts as much as possible. However, through traffic on 10th Street North between 19th Avenue and 28th Avenue will be closed for the duration of the project. Work will be divided into three phases.
Phase One: 19th Avenue to 22nd Avenue North
Phase Two: 22nd Avenue to 25th Avenue North, including the 22nd Avenue intersection
Phase Three: 25th Avenue to 28th Avenue North, including the 25th Avenue intersection
While the street is closed down for construction, residents will not have access to their driveways. However, phase 2 cannot start while work is going on in phase 1 or 3 where on-street parking will be available along with the adjacent avenues.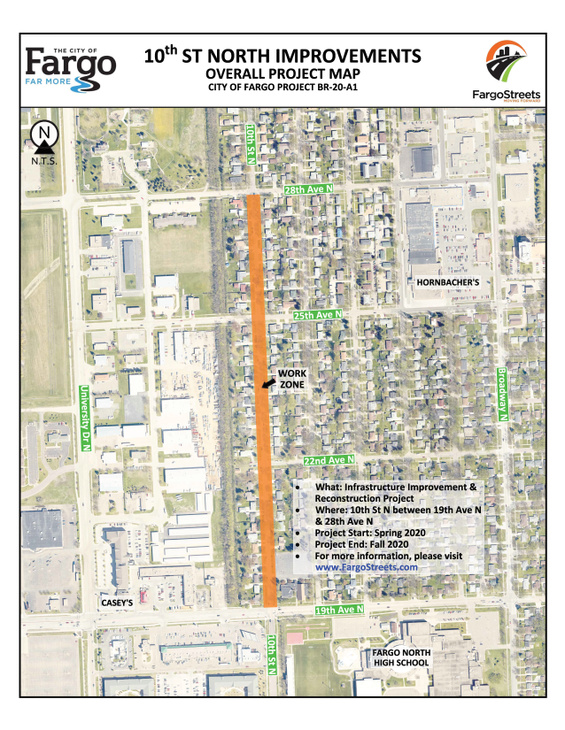 Overall Map
Contractor:
Border States Paving
Timeline:
Construction is slated to begin Monday, May 4, with completion scheduled for late October 2020.
Funding:
This project will be funded through a combination of Sales Tax Funds, Water Main Funds, Sanitary Sewer Funds, and Special Assessments.
Purpose:
The existing water main, installed 65 years ago, is Cast Iron Pipe (CIP) and prone to frequent breaks. Full replacement will significantly minimize impacts and costs associated with breaks.
The existing Vitrified Clay Pipe (VCP) sanitary sewer main, installed 65 years ago, will be repaired as needed and all service connections will be replaced at the main using modern materials and methods.
The existing asphalt roadway has exceeded its life expectancy, making street reconstruction necessary. The roadway reconstruction will include asphalt pavement with a gravel base, concrete curb and gutter, storm sewer inlets and leads, driveway approaches, street lights, and isolated sidewalk repairs.