10th Street North Reconstruction Project
Completed
Start: May 2018
Estimated Completion: Summer 2019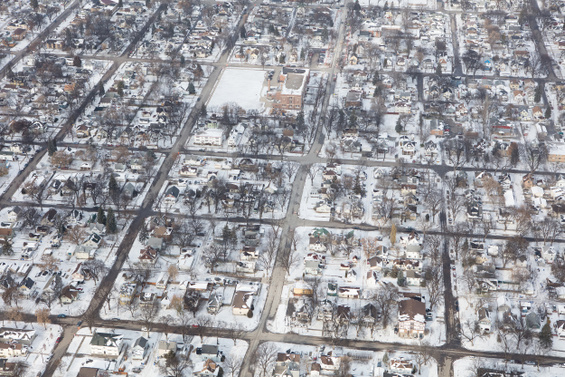 Project overview image taken late October
Current Status:
The 10th Street North improvements are substantially complete and the roadway is fully open to traffic.
Project Overview:
The City of Fargo along with the NDDOT is overseeing the complete reconstruction of 10th Street/US-81 from 4th Avenue to 12th Avenue North in downtown Fargo. This roadway is part of the U.S. Highway system. The project work will upgrade this stretch of roadway from a rural to urban roadway as well as improve safety.
With corridor improvements, proper sight lines for safety are reviewed during project design. In this eight-block roadway construction project, trees were identified for removal to help with safety and visibility for all users and to meet current federal requirements. Removal of trees will be ongoing throughout the construction activity.
Purpose:
Remove some of the roadway curve out of 10th Street North between 8th and 10th Avenue
Improve pavement condition and ride quality of the 30 year-old plus roadway
Complete area infrastructure improvements and upgrade aging facilities of storm sewer, water main and sanitary sewer
Improve load-carrying capacity
Upgrade pedestrian facilities, traffic signals and lighting to improve safety features
Impacts:
10th Street North between 4th Avenue to 12th Avenue North is closed to thru traffic. Traffic is detoured to University Drive where it is one lane in each direction.
Sidewalks on the east and west side of the project will remain open until the roadway reconstruction is complete.
Timeline:
Active construction began in May 2018. Project work is slated to be complete summer 2019.
Funding:
NDDOT is funding the project with a majority of federal and state funds. The City of Fargo has participating items for infrastructure improvements.
Project cost is $7.1 Million:
Federal: $4.1 Million
State: $0.5 Million
City: $2.5 Million (city infrastructure improvements to sanitary sewer and water main work)
Railroad Underpass Lift Station Project Work:
The 10th Street North underpass at the BNSF railroad crossing houses a storm water pump station behind the east wall of the underpass. The one access point for maintenance is from the roadway of 10th Street in the underpass. The original pump station was built in 1977 making the pumps and controls now 41 years old. The pump station was previously maintained by the railroad and on railroad land.
The new lift station is over 20 feet below the existing top of the underpass wall. To build the new structure to house the components for the storm sewer system, the new lift station construction schedule included:
First step: Build out of a temporary safety structure
Crews started by installing a sheet pile cofferdam to safely excavate the area bounded by the existing retaining walls, two building, large sign and railroad track grade
Once the temporary cofferdam was in place the hole for the new structure could safely be excavated and the structure built
Second step: Build out of the permanent structure
The new lift station structure was built behind the west wall of the underpass
The area around the structure was backfilled
Crews removed the temporary cofferdam
Third step: Make underground connections from system to lift station through the retaining wall
Crews worked to install the storm sewer connections from the underpass through the wall to the new lift station
This required removal of the existing retaining wall to make the pipe connection, and additionally the design called for the installation of a stronger wall from the pipe connection at the lift station and south
The stronger wall will support the new concrete roadway and sidewalk over the top of the lift station and new east wall to allow access to the lift station from the south
The new placement of the access into the lift station will allow City of Fargo service trucks to access for maintenance without affecting traffic on 10th Street North
Fourth step: Make additional underground connections to city utilities – weather permitting, phase will be complete in 2018
New storm sewer force main needs to be installed behind the wall from the pump station south to connect to the existing storm sewer in 10th Street North south of 4th Avenue intersection
Fifth step: Installation of control panels to make the lift station operational – phase will be complete in winter 2018
Crews will install underground control cabling to the lift station
Control cables for the signal lights for the new roadway and sidewalk will be installed
New lift station pumps, controls, and internal pump station valves and piping will be installed
Sixth step: Remaining underground connections under the driving surface will be made – phase will be complete in 2019
Roadway surface will be removed to finish the underpass utility connections to new pipes installed to the north. These connections will put the new lift station into service
The old lift station pumps, controls, and building will be removed to below existing ground, backfilled, and abandoned
10th Street North roadway surface between 4th Avenue – 6th Avenue will be replaced with new concrete with underground complete
Seventh step: Permanent lighting, roadway markings and signage will be installed – phase will be complete in 2019
New lighting will be installed throughout the underpass
New permanent directional roadway signage and roadway striping will be installed to re-open the underpass