12th Avenue/15th Avenue North Bridge Rehabilitation Project
Completed
Start: August 13th
Estimated Completion: October 3rd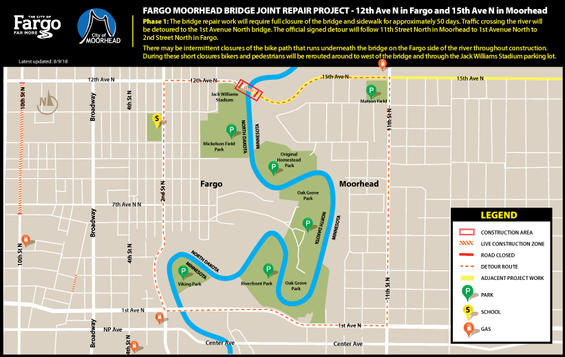 Project Overview Map
Project Overview:
The City of Fargo along with the City of Moorhead will be making repairs to the bridge joints of the 12th Avenue/15th Avenue North bridge along with other general repairs and routine maintenance work. During a bridge joint replacement crews remove the old joints and replace them with new.
Impacts:
The bridge repair work will require full closure of the bridge and sidewalk for approximately 50 days. Traffic crossing the river will be detoured to the 1st Avenue North bridge. The official signed detour will follow 11th Street North in Moorhead to 1st Avenue North to 2nd Street North in Fargo.
There may be intermittent closures of the bike path that runs underneath the bridge on the Fargo side of the river throughout construction. During these short closures bikers and pedestrians will be rerouted around to west of the bridge and through the Jack Williams Stadium parking lot.
Timeline:
Work is slated to begin August 13th and will continue through October 3rd.
Funding:
The project will be paid for by infrastructure sales tax funds and will be split between the City of Fargo and the City of Moorhead.
Adjacent Project:
Mill & Overlay of 15th Avenue North from the Red River to 28th Street North in Moorhead, MN. For the most part, the mill and overlay improvements will be constructed using temporary lane closures, and 15th Avenue North will be kept open to traffic in both directions at all times.