Main Ave Reconstruction: Broadway to the Red River
Completed
Start: April 17, 2019
Estimated Completion: Fall 2019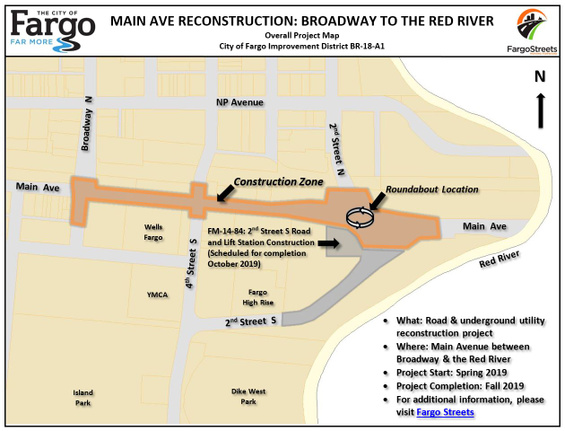 Overall Map
Current Status:
Crews have reopened the Main Avenue and 2nd Street South intersection as a two-lane roundabout and additional travel routes in downtown Fargo. Motorists and pedestrians will encounter:
Veterans Memorial Bridge OPEN to east – west traffic
2nd Street North underpass OPEN to north – south traffic
Shared use path OPEN through the roundabout and on both sides of Veterans Memorial Bridge
With the opened roundabout, the 2nd Street South exit turn will remain closed initially to through traffic. The adjacent City of Fargo flood mitigation project remains active on the south leg of 2nd Street South. Weather permitting, work is slated to be complete in October.
Between the Red River to Broadway intersection, Main Avenue will operate as three-lane arterial road with upgraded pedestrian facilities, 78 on-street parallel parking spaces and a two-lane roundabout at 2nd Street South intersection. The speed limit is 30 mph.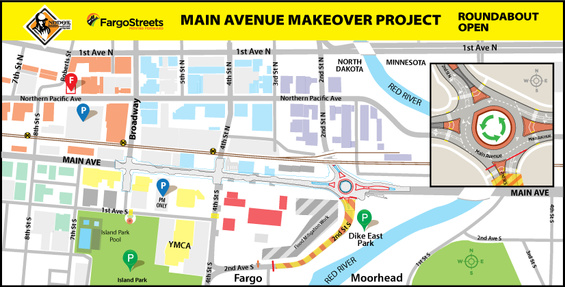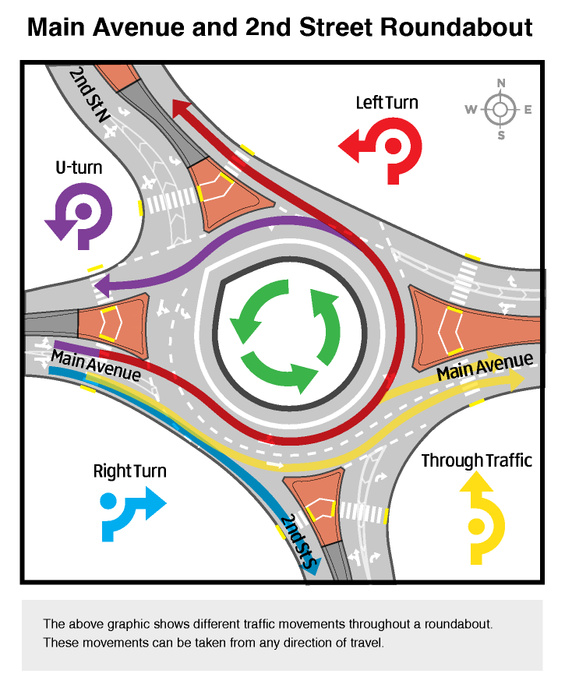 Project Overview:
NDDOT together with the City of Fargo is transforming this gateway into a safe, accessible and corridor to and through the heart of Fargo. The project will improve 50 – 60-year-old underground infrastructure, aging driving surfaces and lessen pedestrian system gaps through the downtown corridor. The improved pedestrian facilities corridor will continue to serve as one of the three downtown corridors that provides a vital connection to Moorhead.
Project work will be spread over two-years, 2019 – 2020. The first phase will focus on the section between the Red River and Broadway. This phase will also include the construction of a roundabout at 2nd Street South. The second phase will reconstruct the segment between Broadway and North University Drive.
The 2019 project work from the Red River through Broadway includes:
Replacement of the existing water main and sanitary sewer.
Installation of new storm sewer.
Installation of new pavement (including a roundabout at the 2nd St intersection).
Installation of new traffic signals.
Installation of new street lighting.
Installation of new landscaping features.
Impacts:
Detours around work zones will be implemented at various times throughout the project. Stay current on detour routes, business access, and all other project updates by visiting FargoStreets.com, where you can sign up for project email notifications. You can also follow FargoStreets on Twitter (@FargoStreets) and Facebook for up-to-date road related information.
Timeline:
Road work started on Wednesday, April 17. Construction is scheduled to last throughout the summer and fall, with substantial completion for the first year of project work scheduled for mid-October 2019.
The project will enter winter suspension. The second year of the Main Avenue makeover will continue in spring of 2020 between Broadway to University Drive.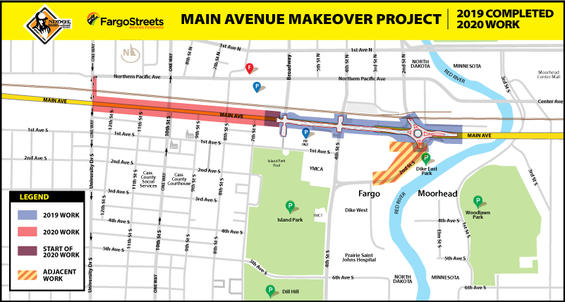 Funding:
The cost of construction is estimated to be approximately $12 million. Funding for the project will consist of a combination of the following sources:
Federal Highway Funds from the NDDOT's Regional Highway System
Watermain Replacement Funds
Water Utility Funds
Sewer Utility Funds
Special Assessments
Sales Tax Funds
Purpose:
Main Avenue, which is part of the NDDOT Regional Highway System, serves as an arterial roadway for people traveling into and through town. Constructed in the 1950's, this stretch of Main Avenue is one of the oldest roads in Fargo. The pavement and underground utilities are deteriorating and in need of replacement, and without long term improvements this stretch of road will continue to cost the City a significant amount of time and financial resources created by the frequent maintenance it requires. Furthermore, the addition of the roundabout at the intersection with 2nd Street will help facilitate and improve traffic flows entering the City.
Project History & Reconstruction Options Considered:
After significant consideration, the Hybrid Option with a roundabout at the 2nd St intersection was selected for the reconstruction of Main Avenue from 2nd Street to University Drive. Here is the background on the design alternatives that were considered:
The roadway alternatives considered included (see below for animated drive-throughs of each alternative):
A roundabout for the intersection of 2nd Street is also being considered as a sub-alternative that could be implemented with all the options listed above. Click the following link for a PDF layout of this option: Main Avenue Roundabout
A counterflow lane on University Drive between Main and NP Avenue N is also being considered as a sub-alternative that could be implemented with all the options listed above. Click the following link for a PDF layout of this option: Main Avenue University Counterflow
A redevelopment and economic analysis was performed to compare redevelopment potential along Main Avenue as a 5-lane roadway or a reduced roadway section such as a 3-lane. Below are drive-through animations of the alternatives that were considered.
Drive-Through Animations:
Draft Project Purpose & Need Statement:
The purpose of the project is to provide an opportunity for an enhanced business environment with an active, safe and convenient environment for pedestrians while still providing a safe and efficient transportation corridor that will support regional and local traffic needs. Furthermore, the project intends to improve aging corridor infrastructure (pavement, sewer, water, and storm sewer) and mitigate pedestrian system deficiencies. Ultimately, the project has potential to stimulate an environment that encourages investment and redevelopment throughout a reinvented corridor that is fully integrated into the urban fabric of Downtown Fargo and continues to serve as one of the three downtown corridors that provide a vital connection to Moorhead, Minnesota.