4th Street South Road & Water Main Improvement Project
Completed
Start: May 21st, 2018
Estimated Completion: Spring 2019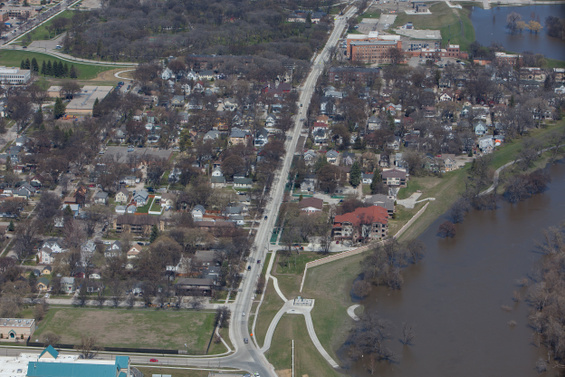 Project overview image from late April 2019
Current Status:
The 4th Street South improvements are substantially complete and the roadway is fully open to traffic.
Project Overview:
This project is part of the City's annual infrastructure improvement efforts. The purpose of this project is to upgrade portions of the City's infrastructure in this area including water main, sanitary sewer, storm sewer, paving, bike lanes, street lighting and the traffic signals located at the intersection of 4th Street South and 8th Avenue South.
In addition, the roadway on 4th Street South is being reconfigured to accommodate bicycle lanes along the curbs.
Purpose:
The older of the 4th Street water main was installed in 1921 with the remainder in 1938. The pavement from 9th Avenue to the south is 64 years old and the pavement north of 9th Avenue is 37 years old. This project is installing needed upgrades and tie-ins to the City's infrastructure and will correct deficiencies on the streets that have appeared over time. The finished product will provide better water and sewer distribution, a better constructed roadway, and improved roadway lighting.
Impacts:
Portions of 4th Street South were closed during construction to accommodate work during each of these phases:
Phase One: 6th Avenue South halfway between 4th Street to 7th Street South
Phase Two: 4th Street from 13th Avenue South through 11th Avenue South, including work on 13th Avenue South to the west of 4th Street and work on 11th Avenue Ssouth east of 4th Street
Phase Three: 4th Street from 11th Avenue South to half way between 9th Avenue South and 8th Avenue South
Phase Four: 10th Avenue South from 4th Street to the east
Phase Five: 4th Street from half way between 9th Avenue South and 8th Avenue South to 6th Avenue South
Phase Six: 4th Street from 6th Avenue South to Dike West parking lot entrance

Phase Seven: 4th Street from Dike West parking lot entrance to 2nd Street
A northbound detour route was in place from west on 5th Street to North on 10th Street to Main Avenue.
Timeline:
Construction began the week of May 21, 2018. Project work has entered winter suspension and is slated to begin again in the spring.
Funding:
The project will be paid for by:
Infrastructure funds (sanitary, water and flood)

Sales tax
Special assessments