53rd Avenue South Construction
Completed
Start: May 8th, 2018
Estimated Completion: Summer 2018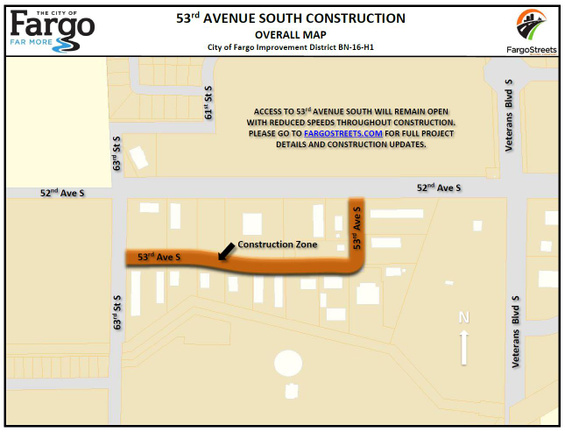 Overall Map
Current Status:
Construction activity along 53rd Avenue South began May 8th, 2018 and was substantially completed in late September.
Project Overview:
The City of Fargo is overseeing the improvements to 53rd Avenue South between 52nd Avenue South & 63rd Street South. The project will include asphalt pavement for 53rd Avenue South, installation of concrete curb and gutter, concrete sidewalk, concrete approaches to each property, and street lighting.
Impacts:
There will be no long-term closures to through traffic on 53rd Avenue South or any of the adjacent roadways. There may be times that sections of the road and access to properties will be temporarily closed, at which time the contractor will communicate and coordinate with property owners.
Contractor:
Border States Paving
Timeline:
Construction activities began May 8th, 2018, with a substantial completion date slated for June 30th, 2018.
Funding:
The project is funded 100% through special assessments to the benefiting property owners.
Project Cost is $912,477.70
Purpose:
Improve pavement conditions and ride quality on 53rd Avenue South
Eliminate dust issues from the currently graveled roadway
Improve safety features such as pedestrian access with sidewalk installation and street lighting
Improve storm water management