Harwood, Hackberry, & River Drive Levees: Phase 2
Completed
Start: July 23rd, 2018
Estimated Completion: October 2018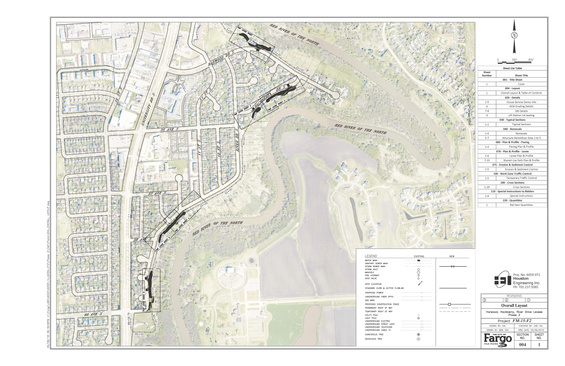 Overall Map
Current Status:
Construction began in July of 2018 and was completed in November of 2018.
Project Overview:
The City of Fargo, with assistance from Houston Engineering, will be constructing Phase 2 of flood protection along Harwood Drive, Hackberry Drive & River Drive in the summer of 2018. Houston Engineering will be overseeing construction inspection on behalf of the City. The project will include removal of five residential structures, sewer and water service terminations in the street, and construction of earthen levees.
Impacts:
There will be times when sections of Harwood Drive, Hackberry Drive and River Drive will be closed in order to perform sewer and water service closures to the houses that are being removed. The sanitary sewer main and water main are located in the street and will require the Contractor to cut the pavement and excavate in the street to terminate these services. Service terminations will be directly in front of the following properties planned for removal:
707 Harwood Drive
602 Hackberry Drive
726 Hackberry Drive
3842 River Drive
3908 River Drive
Contractor:
Industrial Builders, Inc.
Timeline:
Construction activities will begin on July 23rd, 2018. The Contractor will begin with removing trees that are located in the levee alignment or within the clear zone of the levee.
In 2015 the City of Fargo replanted trees along the wet side of the earthen levee along River Drive and Harwood Drive. The trees that are being removed during Phase 2 have already been accounted for and were replanted at a 2:1 ratio in 2015. No further tree planting will occur in this area as a result of the trees that will be cut down in 2018.
The project is scheduled to be complete in October 2018.
Funding:
The project is funded through a combination of sales tax funds and funds from the ND State Water Commission. Property owners in this area will not receive assessments for the work being performed.
The Estimated Project Cost is $806,698.90.
Purpose:
Remove flood prone properties
Reduce the amount of emergency efforts needed during a flood event
Improve safety for Fargo residents and infrastructure by constructing permanent earthen levees