Main Avenue & 2nd Street South Flood Mitigation
Completed
Start: November 2018
Estimated Completion: October 2019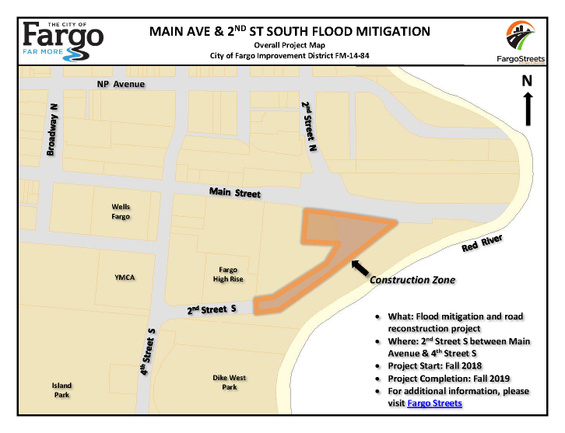 Overall Map
Current Status:
This project is substantially complete and the roadway is fully open to traffic.
Project Overview:
This project is a continuation of the flood protection projects along 2nd Street South. The planned work for this project includes the replacement of the City's oldest storm sewer lift station, construction of a removable floodwall across 2nd Street South, and reconstruction of the floodwall up to the Main Avenue Bridge.
In addition to the flood mitigation work, 2nd Street South's last remaining stretch of old pavement will be reconstructed. Once this project is complete, 2nd Street South will be fully reconstructed from Main Avenue to 4th Street South.
Impacts:
Minimal impacts to the public will be experienced during the lift station construction, which is expected to be the first component constructed.
2nd Street South and its adjacent sidewalks will be closed from the Dike East entrance to Main Avenue during the construction of the removable floodwall and the reconstruction of 2nd Street South.
Access to the Fargo Housing Authority's High Rise building will be maintained at all times from 4th Street South during the closure of 2nd Street South.
The bike trail adjacent to the Red River will not be impacted by construction and will remain open.
Contractor:
Industrial Builders, Inc.
Timeline:
Construction on the lift station is expected to start in November of 2018 and continue through the winter. In the spring of 2019, 2nd Street South will be closed and will remain closed until fall of 2019. The project is scheduled for substantial completion by late October 2019.
Funding:
This project will be funded through a combination of Flood Sales Tax, North Dakota State Water Commission funds, Infrastructure Sales Tax, and Special Assessments.
Purpose:
Over the years, the City has had to deploy extensive emergency measures any time the Red River exceeded a river stage of 30.0 feet in order to hold back floodwaters. This project is the last phase of the 2nd Street South flood mitigation work that has been ongoing since 2015. Once completed, the 2nd Street South levee system will be continuous from Main Avenue up to the connection point with the 4th Street levee system, thereby removing the need for emergency flooding measures along 2nd Street South. This project is being constructed by the Diversion Authority and is a part of the overall proposed Fargo-Moorhead Diversion project.