Public Information Meeting -13th Avenue Reconstruction
Completed
Start: April 2018
Estimated Completion: Fall 2018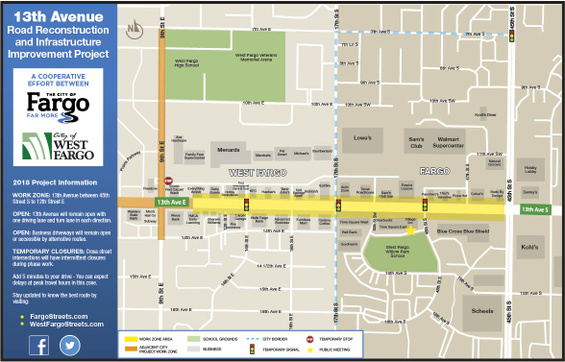 Public Information Meeting: Time Square East Building
The City of Fargo Engineering Department, along with the City of West Fargo Public Works Department, invites you to attend a public information meeting on Thursday, May 3rd. The goal of the meeting is to share and discuss details of the current joint City of Fargo and West Fargo roadway reconstruction and infrastructure improvement project on 13th Avenue this year.
Additional information on the project can be read under the 13th Avenue road reconstruction and infrastructure improvement page.
WHEN: Thursday, May 3, from 11:30 a.m. - 12:00 p.m.
WHERE: Times Square East Building, second floor
4950 13th Avenue South, Fargo, ND
Why should I attend? Representatives from the City of Fargo, City of West Fargo, Apex Engineering Group, and Flint Group will be available to answer questions about how the different phases of the street reconstruction could possible impact you and how we plan to ease impact to your business and/or access to the area during road construction.
Project plans will be available for your review and will show the upcoming phase change.
We will share the multiple communication channels available to you during planning and active construction that will show changes to 13th Avenue access and travel routes. You will be able to sign-up for many of these during the meeting.
Active construction began in April.
What is the scope of work and how will it be funded? The purpose of the project is to replace aging infrastructure, with a goal of improving both pedestrian and vehicular safety, and increasing roadway capacity. This project will include the construction of a new 6-lane roadway in Fargo and 3-lane westbound and 2-lane eastbound roadway in West Fargo.
A new concrete roadway, curb and gutter, sidewalks/shared use path, storm sewer, watermain, street lights, and traffic signals will be installed through the project limits.
The project is being funded by a combination of local utility, infrastructure sales tax, and special assessments. A map showing the limits of the assessment district will be available at the meetings.
What is the meeting format? The meeting will not have a formal presentation and will be an open house format. We want you to have the ability to talk one-on-one to City staff and project engineers from Apex Engineering Group, and/or Flint Group representatives with your specific questions.
If I can't attend the meeting, how can I stay informed? Please contact either Jeremy Gorden, City of Fargo, or Matt Kinsella, Apex Engineering Group, with further questions.