19th Ave, South Dr, & 7th St South Recon
Completed
Start: May 22nd, 2018
Estimated Completion: October 2018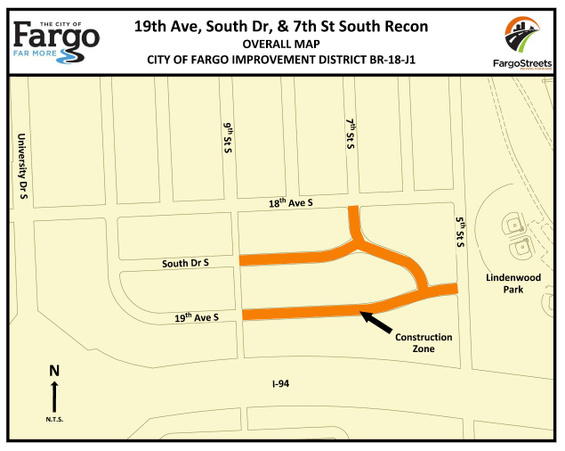 Overall Map
Current Status:
This project is now substantially complete.
Project Overview:
The project includes the removal and replacement of the existing water main and sanitary sewer, as well as an upgrade to the storm sewer system. New asphalt pavement, concrete curb and gutter, and street lights will also be installed.
Impacts:
19th Avenue South from 9th Street to 5th Street, South Drive South from 9th Street to 7th Street, and 7th Street South from 18th Avenue to 19th Avenue will all be closed to through traffic for the duration of the project.
Contractor:
Dakota Underground
Timeline:
Construction activities began May 22nd, 2018, with a substantial completion date slated for October 6th, 2018.
Funding:
The project will be funded through a combination of Sales Tax Funds, Water Main Funds, Sanitary Sewer Funds, and Special Assessments.
Purpose:
The existing water mains, installed nearly 60 years ago, are cast iron pipe (CIP) and prone to frequent breaks. Full replacement will significantly minimize impacts and costs associated with breaks.
The existing Vitrified Clay Pipe (VCP) sanitary sewer mains, installed nearly 60 years ago, are showing signs of deterioration. As part of this project, we will replace the sanitary sewer pipe using modern materials and methods.
The existing concrete street roadway has deteriorated significantly and has exceeded its life expectancy, making street reconstruction necessary. The roadway reconstruction will include asphalt pavement with a gravel base, concrete curb and gutter, storm sewer inlets and leads, driveway approaches, street lights, and isolated sidewalk repairs.