Great Northern Drive Project
Completed
Start: May 2018
Estimated Completion: October 2018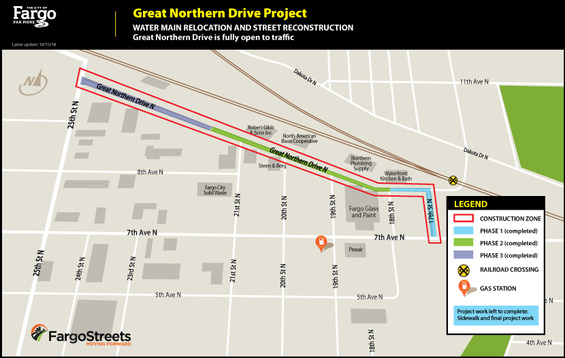 Great Northern Drive Project
Project Overview:
This project will include roadway reconstruction, water main relocation, sanitary and storm sewer relocation, new street lighting and sidewalks.
The project is being done primarily to make room for a new overhead high voltage line being built into Fargo by XCEL Energy.
Impacts:
The project breaks down into three phases:
Phase 1: Will relocate the water main into the street on the west side of 17th Street from 7th Avenue to 8th Avenue. A new water main will be added in the south boulevard of 8th Avenue from 17th Street to 18th Street and crews will reconstruct the street where the water main is relocated to.
Traffic Control: Eastbound traffic on 7th Avenue will be maintained for the duration of phase one. Westbound vehicles will be detoured south on University to 3rd Avenue North over to 25th Street North.
Phase 2: Will relocate storm sewer and increase the capacity on 8th Avenue and Great Northern Drive from Near 17th Street West to 21st Street. The north half of this stretch of street will be reconstructed.
Traffic Control: Business access and local traffic only will be maintained through the work zone as construction activity allows.
Phase 3: All of Great Northern Drive from 22nd Street to 25th Street will be reconstructed, including a new railroad crossing. A sidewalk will be added on the south side of the street along with new street lights and sanitary sewer services. Crews will Relocate the storm sewer and increases the capacity of the road from 22nd to the railroad crossing on the north half of the street and relocate the storm sewer from the railroad tracks west to 25th Street.
Traffic Control: One-way eastbound traffic will be maintained on Great Northern Drive with access.
Timeline:
Work will begin early May and will continue through the three phases. The Contractor must complete one phase before moving to the next phase. The project will be completed mid-October.
Funding:
All the relocation of storm sewers and water main and street lights and any street reconstruction due to the relocations is funded at 100% by XCEL Energy.
The south half of Great Northern Drive from 21st Street to 25th Street along with the new sidewalk is being done to repair the failing street and will be assessed to the benefitting properties in accordance with current procedures which will include City participation.