I-94 & South University Drive Interchange Improvement Project
Completed
Start: May 2018
Estimated Completion: November 2018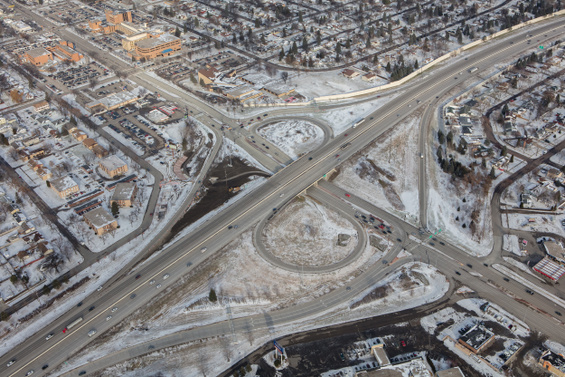 I-94 and University Interchange Improvement Project: Image taken the end of October
Project Overview:
The City of Fargo along with the NDDOT oversaw the complete reconstruction of I-94 and University Drive interchange, updates to traffic signals used by interstate traffic and half mile of University Drive roadway. The project reconnected and straightened out the interstate ramps, lengthened the turn lanes and created access control to help with better traffic flow through the area. University Drive is three-driving lanes plus interstate turning lanes in each direction.
The new interchange design creates multimodal separation, so cars and pedestrians have separation. Safety improvements will increase the interest in use of the interchange and reduce conflict points. There was one driveway consolidated in the project work, otherwise all other business/access driveways remain on University Drive.
Purpose:
Better accommodate peak hour traffic through the interchange
Safety improvements for conflict points and turning movements
Improve pavement condition and storm drainage
Help alleviate unnecessary traffic movements with addition of medians to cross traffic
Medians will be installed to control left turning movements and minimize conflict points
Shared-use path under the interstate ramp on the northwest side
Impacts:
University Drive and I-94 remained open with reduced driving lanes in both directions of travel on each of the roadways.
Keeping traffic moving through the work zone was the goal of the traffic control design across four phases of project work.
First phase: Remove curb and gutter and install temporary pavement in the median. Maintain two lanes of traffic each direction.
Second phase: Reconstruct east half while maintaining two lanes of traffic in each direction. There will be short periods when traffic is restricted to one lane.
Third phase: Reconstruct west half while maintaining two lanes of traffic. There will be short periods when traffic is restricted to one lane.
Fourth phase: Construct median with two lanes each direction.
Work on the south side of interstate was completed as resources allowed and the pedestrian underpass was built during multiple phases of the project.
Timeline:
Project work started mid-May. Project completion date was early November.
Funding:
NDDOT is funding the project with a majority of federal and state funds. The City of Fargo has participating items for infrastructure improvements.
Project cost is $4.9 Million:
Federal: $4.1 Million
State: $0.2 Million
City: $0.6 Million