32nd Avenue South Reconstruction Public Input Meeting
Future
Start: Construction Slated For April 2022
Estimated Completion: October 2022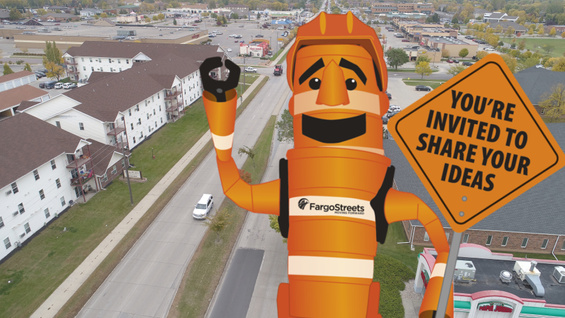 Project Overview:
The purpose of this public input meeting is to discuss proposed improvements to 32nd Avenue South in Fargo. The project will consist of reconstructing 32nd Avenue South between 32nd Street South and University Drive including new concrete pavement, new pedestrian facilities, intersection improvements at 25th Street South, and utility and drainage improvements.
Stop in anytime to share your ideas and address any challenges associated with the current 32nd Avenue South corridor. Representatives from City of Fargo and Apex Engineering Group will be present to answer questions.
WHEN: Wednesday, August 12, 2020, from 4:00 p.m. - 6:00 p.m.
WHERE: Rheault Farm, 2902 25th St S, Fargo, ND 58103
Why should I attend? Representatives from the City of Fargo and Apex Engineering Group will have staff on hand to discuss improvements and answer questions relating to the project.
What is the meeting format? Open house format with no formal presentation.
This meeting is designed to allow for public input which is required for compliance with the National Environmental Policy Act of 1970 and National Historic Preservation Act of 1966. The meeting will exercise all appropriate CDC and Department of Health social distancing guidelines. The City of Fargo encourages face mask use and social distancing during this meeting.
Virtual Option: A video option to learn about the project is posted below and on FargoStreets Facebook page for community member that are more comfortable learning about the project without attending the in-person open house.
Virtual Public Input Meeting Video: 8.12.20
Public Comments:
If unable to attend the Public Input Meeting, written statements or comments must be mailed by August 26, 2020 to Apex Engineering Group, Attn: Josh Olson 4733 Amber Valley Parkway S, Fargo, ND 58104 or emailed with "Public Meeting" in the e-mail subject heading to josh.olson@apexenggroup.com.
Comment Map: An interactive map of the project limits is open for comments and ideas on what you want to see along 32nd Avenue South. Share your thoughts on safety features, access, and pedestrian connectivity on the interactive comment map.
You are also able to sign up for project-specific email updates. Select South Zone by visiting Sign Up for Email Updates page on FargoStreets.com.