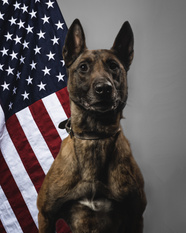 K9 Blue is a Belgian Malinois born April 28, 2016 in Slovakia. Blue was purchased and trained by Shallow Creek Kennels in Sharpesville, PA. In June of 2017, Blue was purchased by the Fargo Police Department and paired with his handler, Sergeant Sam Bollman. Bollman and K9 Blue completed training in August of 2017.
K9 Blue is trained in narcotics detection and patrol work, which consists of tracking, criminal apprehension, and evidence recovery. As of December of 2018, K9 Blue has been deployed over 325 times to locate narcotics, evidence, or an individual. Sergeant Bollman and K9 Blue also enjoy giving public demonstrations to school classes, businesses, and organizations in the community.
K9 Blue lives at home with Sergeant Bollman and enjoys playing fetch with Bollman and his family.