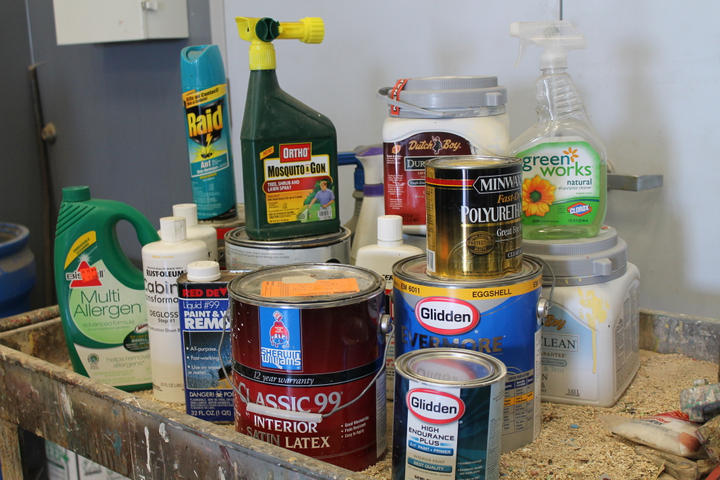 Accepted Items
The following items are typical materials accepted at the City's household hazardous waste facility.
Adhesives and Sealants
This includes roofing cement, carpet and tile adhesive, grout and window sealants (caulking), wallpaper paste, rubber cement, PVC pipe adhesive, plumber's putty, spray adhesive, wood glue and more.
Automotive
Motor oil, drained oil filters, used antifreeze, windshield washer fluid, brake fluid, body filler, gasket sealant, car polish/wax, automatic transmission fluid, gasoline, car and boat batteries, battery acid and more.
Batteries
Nickel-cadmium (rechargeable batteries often found in cellular phones, video cameras, power packs, etc.) and lithium batteries (from cameras).
Corrosives and Caustics
Battery acid, muriatic acid, rust remover, drain cleaner and quick lime.
Cleaners
Bathroom cleaners, drain and oven cleaners, floor cleaners/waxes/polishes, deck wash, furniture and shoe polish, leather protectant and more.
Computers and Misc. Electronics
Monitors, hard drives, keyboards, mouse, VCRs, TVs, fax machines and more. Single residential units only. Learn about other ways to dispose of your electronics.
Fluorescent Bulbs
This includes 4-foot and 8-foot fluorescent tubes (as well as smaller 1-2 ft. tubes), U-bends or circular, mercury vapor bulbs (HID), ballasts and more.
For ballasts, if they say, "No PCBs," they can be thrown in the regular garbage. If it does not state this, we assume it contains PCBs (which are harmful to the environment); therefore, please bring them to the HHW building. Replace bulbs with more energy efficient (earth-friendly) compact fluorescent lamp (CFL) bulbs.
Inkjet Cartridges
Inkjet inks can contain a range of chemicals that are harmful to the environment.
Mercury and Mercury-Containing Products
Thermometers, thermostats, blood pressure cuffs/monitors and other items.
Paint and Related Products
Latex paint, oil-based paint, stains, varnish, polyurethane, sanding sealer, thinner, stripper, spray paint, craft paint and more. Wood preservatives can contain dioxins and are toxic.
Pesticides, Insecticides and Fertilizers
Ant, roach and hornet sprays/traps, mole poison, rose dust, 2-4 D, Round-Up, Chlordane, DDT, weed killer, lawn, plant, garden and flower fertilizers, animal care products and more.
The Department of Agriculture holds Pesticide Safe Send (pesticide collections) each summer throughout North Dakota. Call 1.800.242.7535 for dates and locations, or visit the department's Website.
Miscellaneous
Pool chemicals, roof or foundation coatings, joint compound, chemistry sets and photographic hobby chemicals.
Smoke detectors can be thrown in the garbage. You can also call the HHW building as they have a list of manufacturers with contact information for recycling.
Flammable Products
As defined on container label or Material Safety Data Sheet for the product. For information on unknown material, call 701.281.8915