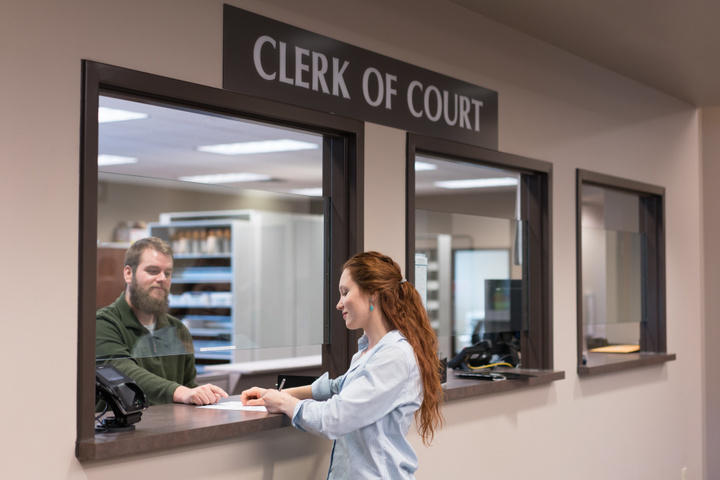 Criminal Procedures
A defendant is required to personally appear in court at the initial appearance for the purpose of entering a plea. Before entering the courtroom, the defendant must register at the Clerk of Court's Office. The clerk's staff will provide a Notification of Rights form to each defendant who is charged with a class B misdemeanor or an infraction.
The monetary penalties for criminal offenses are similar to the bail schedule for first-time offenders; however, the judge may impose a lesser or greater fine depending on the circumstances of the case. There are minimum mandatory penalties required by state law for the offenses of DUI and operating a motor vehicle without liability insurance and certain DUS offenses. Those penalties are described in the Special Advisement, which is provided to defendants when they register for court.
The following information relates specifically to criminal offenses classified as class B misdemeanors or infractions.
Plea of guilty:
The judge will impose sentence immediately, unless continued for pre-sentence information.
Plea of not guilty:
After a not guilty plea is entered, the case will be continued for a pre-trial hearing which is the defendants last opportunity to enter into a plea agreement with the city prosecutor. If the plea is not changed at the pre-trial hearing, a trial date will be scheduled.
Procedure at trial:
At the time and place set for trial both the City of Fargo and the defendant must present their witnesses and any evidence they have to offer. Each side is given the opportunity to question the other sides witnesses. In a criminal case the defendant cannot be compelled to testify. If the defendant chooses to testify, the prosecutor may question the individual.
Burden of proof:
In criminal cases the City of Fargo must prove each element of the offense beyond a reasonable doubt.
Appointed counsel:
A defendant charged with a class B misdemeanor may be entitled to the services of a public defender if the defendant is determined to be indigent. To apply for appointed counsel a defendant must submit an application containing financial information to the judge at the initial court appearance. The application is available at the Clerk of Courts Office.
Jury trial:
Jury trials are not available in municipal court. A defendant charged with a class B misdemeanor in a municipal court is entitled to a jury trial in District Court, provided a written demand for jury trial is made within 28 days after a plea of not guilty is entered. The City of Fargo prosecutes the case in the district court before a district judge. If a defendant does not timely demand a jury trial, the right to a jury trial is waived by statute.