Victim Support Services
Victims and survivors of violent crime have the right to feel heard and supported in regards to the dynamics of crime and traumas lasting impact on individuals. They need to have access to support services that address their psychological and emotional needs, as well as have their safety concerns addressed.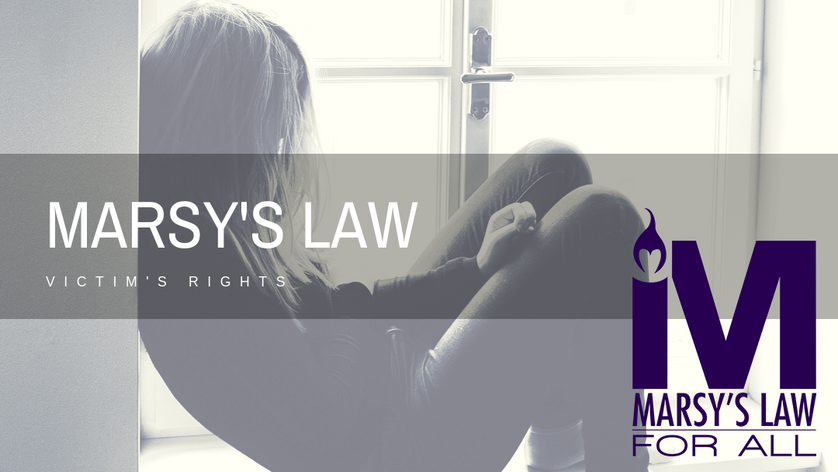 Marsy's Law
Under "Marsy's Law," victims of a crime have certain rights, but these rights must be asserted. You can assert your rights to the law enforcement officer at the time of the initial response or anytime thereafter by contacting the prosecuting attorney's office.
Learn more about Marsy's Law to know your rights.
Protecting Your Information
North Dakota's open records laws make all records of a public entity open to the public unless otherwise protected by law. Records can be requested by the media (television, newspaper, bloggers) and any other interested member of the public – including the defendant.
Under Marsy's Law, a victim has the right to prevent disclosure of information or records that reasonably could be used to locate or harass the victim or the victim's family, or which disclose confidential or privileged information about the victim, and the right to be notified of any request for such information.
You must assert your right in order to prevent disclosure of this information.
If you assert your right, the following information is protected and cannot be publicly released, even after the criminal case is done:
Your home address, telephone number(s), email address(es), or other information that could reasonably be used to locate you or a member of your family. This includes references to a building where you work.
Any information or records that are confidential or otherwise protected by law, such as medical records, driver's license number, social security number, etc.
Even if you assert your right, your name can still be released to the public, including the media, unless you are a victim of domestic violence, human trafficking, a sexual assault or other sex crime, or you are a minor.
Victim Notifications
Under Marsy's Law, a victim has the right to receive reasonable notice of, and to be present at, all court proceedings. In order to receive these notifications, you must contact the prosecuting attorney's office. You will need to provide contact information. You also have the right to receive notice of the defendant's release or escape from custody. You can contact the custodial facility directly (local jail or ND Department of Corrections) or register to receive automated notifications.
Sign up for automated victim notifications. The state of North Dakota also offers a free program that provides confidential notifications to victims - the Statewide Automated Victim Information and Notification (ND SAVIN) program. This program uses the Victim Information and Notification Every Day (VINE) system to generate automated notifications by telephone, text or email. Multiple registration options are available on ND SAVIN. You may select to register to receive some or all of the following types of notifications, but each option requires a separate registration.
Victim Responsibilities
Although a victim has many rights under Marsy's Law, the victim also has certain responsibilities. A victim is responsible for:
Affirmatively asserting your Marsy's Law rights.
Providing contact information. You must provide accurate contact information to the prosecuting attorney's office and notify the prosecuting attorney's office of any changes to that contact information. You may also be required to provide up-to-date contact information to other agencies, such as the ND Department of Corrections & Rehabilitation.
Registering to receive automated notifications. Many of the notifications a victim is entitled to receive are available by registering with ND SAVIN. Registration is free and the notifications are confidential. You can register to receive notifications by telephone, text message, email, or a combination.
Additional Victim Resources
The North Dakota Department of Corrections and Rehabilitation Victim Services Program website provides additional information regarding post-sentencing rights, services available through the Victim Service Program, and how a victim may receive these services.
The North Dakota Crime Victims Compensation program was created in 1975 to help pay some of the out-of-pocket expenses for victims of crime such as medical expenses, mental health counseling, lost wages/support, funerals, replacement services such as housekeeping and childcare, travel, rehabilitation, attorney fees, and emergency awards. Call 701.328.6195 or toll free 800.445.2322 for more information.
The Rape and Abuse Crisis Center provides crisis intervention, advocacy, counseling, and prevention education for those impacted by domestic violence, sexual assault and child sexual abuse. Confidential services are provided to victims at no charge and are available to female and male, children, adolescents, adults, and elders.
24 Hr. Crisis Phone: 701.293.7273 or 800.344.7273
FirstLink is a 24 hour, seven days a week hotline with call specialists to help you find resources and provide a non-judgmental listening ear.
Dial 2.1.1 or 701.235.7335 anytime.