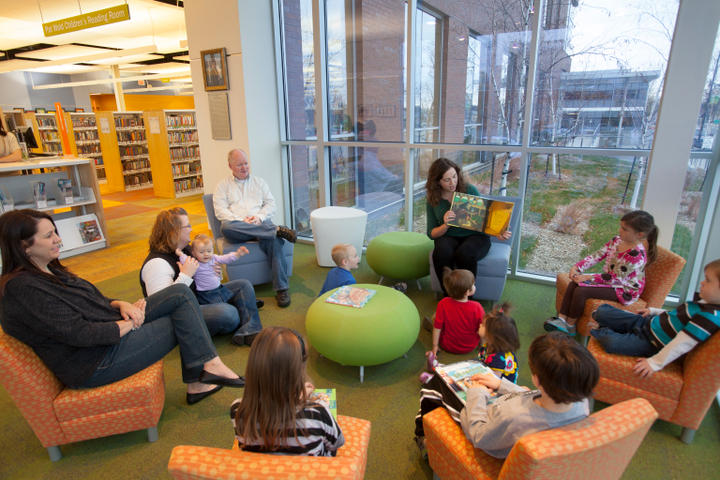 Children's Storytime
The Fargo Public Library has several storytimes available for families and caregivers where staff share their love of books and reinforce early literacy skills. Through the use of age-appropriate stories, songs, and fingerplays in a group setting, staff also help parents and caregivers learn how to foster early literacy skills to prepare their children for learning to read.
Baby Rhyme Time lapsit storytimes are held twice a month for babies from birth to 18 months.
The Fall 2023 Storytime season for toddlers and preschoolers runs from Sept. 11-Nov. 29. All times are open to children ages 2-6. Pre-registration is not required.
Main Library: Mondays at 10 a.m. and 11 a.m.
Northport Branch: Tuesdays at 10 a.m.
Dr. James Carlson Library: Wednesdays at 10 a.m. and 11 a.m.
Basic Storytime Guidelines
Please note that all storytimes start promptly on schedule. Be sure to allow extra time for parking and getting nametags.
Please honor age limits for each storytime.
Please refrain from bringing food and beverage into storytime.
If children in your care become disruptive, please remove them until they are comfortable and ready to listen.
For more information about any of our storytimes, call 701.241.1495.
Be sure to pick up a Storytime Punch Card. Children who attend 10 storytimes earn a free book!