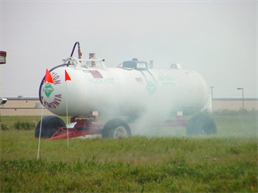 Hazardous Materials
The Environmental Division assists the Fargo Fire Department Hazardous Material Response Team when there is a release or spill of a hazardous product. Primary duties include:
Assisting in identifying the hazardous product and the associated safety hazards.
Notifying the proper state and federal agencies of the spill or release.
Providing the responsible party with the appropriate information to cleanup or mitigate the hazardous spill/release.
Monitoring the cleanup or mitigation of the hazardous spill/release until local, state and federal regulations are met.
More information on spill reporting can be found by visiting the North Dakota Department of Environmental Quality Spill Investigation Program.