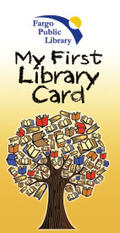 Library Cards for Kids
The Fargo Public Library is in the business of building readers and what better way than to celebrate our youngest community members! Did you know that beginning at birth you can get your child a Fargo Public Library card and open the door to all of the excellent materials and services offered by your library? Children from birth through age 7 who have never held a Fargo Public Library Card are welcome to apply for a distinctive My First Library Card. The unique design will make any child feel special as they proudly check out books, music CDs, and other materials all on their own.
Children who share books with parents from an early age have better success learning to read which leads to success in school and beyond. Make it a family event and get everyone a card since children who see adults reading are more likely to enjoy reading themselves.
Parents or guardians who are residents of the City of Fargo are welcome to come in to any Fargo Public Library location and apply for a My First Library Card for their children by bringing identification and proof of current address. Minnesota parents can show their child's valid card from the Lake Agassiz Regional Library system to get a Fargo library card for free. West Fargo parents can show their child's valid West Fargo Library card to get a Fargo library card for free. Other residents of North Dakota can receive a non-resident card without a fee good for one year.
For more information about the My First Library Card program or other Fargo Public Library programs and services, please contact Children's Services at 701.241.1495. Come down and get the whole family library cards today!