Outreach Services
Does Outreach Services make house calls?
The Fargo Public Library Outreach Services delivers library materials and offers direct, individual reading guidance and assistance with the elements of the ND State Library Talk Books program for those certified to receive this service. Yes, we do make house calls!
Am I eligible for Outreach Services?
Services are available to people of all ages who live within Fargo's city limits. Eligibility is based on an individual's inability, whether permanent or temporary, to come to the Fargo Public Library due to mental or physical disability, in accordance with national and state criteria. To find if you qualify, contact Outreach Coordinator Pam Strait at 701.241.8111 or send an email,. We will start searching for a volunteer to help you.
How does Outreach Services work?
Library materials and services are delivered in person by a volunteer at regularly scheduled visits at no charge to you. The library provides access to a wide range of materials and services from the Fargo Public Library, such as:
Large print and regular print books, including bestsellers
Audiobooks and music on CD
DVDs and Blu-rays
Magazines
Information from the internet
Assistance with ND State Library Talking Books application process
Lobby service at retirement homes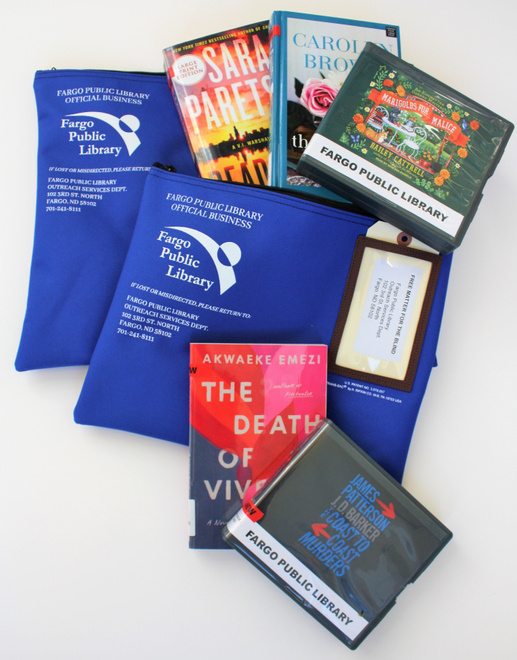 Books by Mail Service Available
The Fargo Public Library's Books by Mail Service provides large print books, audiobooks, and CDs to homebound individuals who have trouble reading standard print. City of Fargo residents who are unable to leave home because of a temporary or permanent disability and are unable to use standard print materials can qualify to receive library materials for free. Materials will be delivered and can be returned in a reusable pre-paid mail pouch. To register, please fill out our Books by Mail application and have a physician, nurse or hospital staff member fill out the Certification of Disability form and email it to outreach@fargolibrary.org or mail it to any library location. To find out if you qualify or for more information about the Books by Mail service, call the Outreach Dept. at 701.298.6954 or use the contact form at the bottom of this page.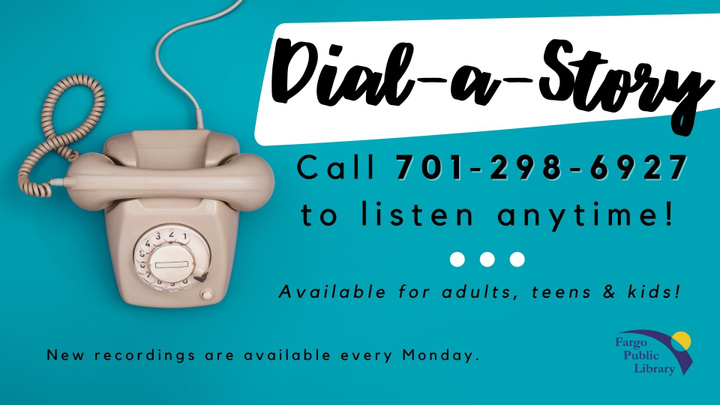 Dial-A-Story Service Available
If you ever wish you could have a story, a poem, or even a Shakespearean monologue read to you at any time, day or night, now you can. Call the Library's Dial-A-Story line at 701.298.6927 anytime to listen to a short story, poem, or Shakespearean monologue. New recordings are available every Monday. Selections are recorded by Library Outreach Staff and are 3 to 5 minutes in length. Dial-A-Story can be accessed from any phone.
Fargo Public Library Volunteer Opportunities in Outreach Services
If you would like to find out more about volunteer opportunities at the library, please contact Pam Strait by email, call 701.241.8111, or visit the Volunteer page on our website for further information and volunteer job descriptions.
Contact Us
If you have any questions or comments, please contact Pam Strait, Outreach Services Dept. and Volunteer Coordinator.