Snow Removal
When snow falls in Fargo, the city's Public Works staff hits the streets. Crews work around the clock while the snow is falling to keep all Snow Emergency and Priority 2 routes open. All of the routes involve major streets that facilitate traffic movement from one end of the city to the other.
The second phase of our snow removal response involves city-wide plowing. Our goal is to plow all streets within 24 hours after the snowfall ends. Additional snow and high winds can complicate our attempts to meet this goal. Priority 3 plowing involves the residential streets/avenues while Priority 4 includes alleys. In most cases, Priority 3 & Priority 4 plowing will take place simultaneously. In addition to plowing, we also haul snow out of the central business district, cul-de-sacs and areas where little boulevard space is available for snow storage.
Sidewalk snow removal begins following the snow event. The Street Department maintains approximately 34 miles of City sidewalk.
Seasonal parking restrictions (scroll down to seasonal parking after opening link) are in place to help us remove snow quickly from city streets.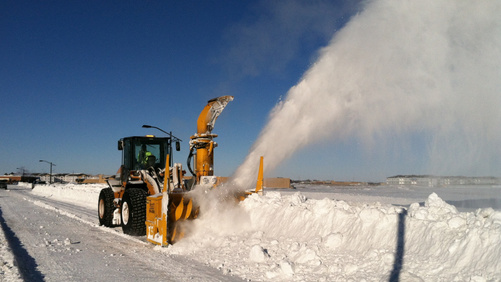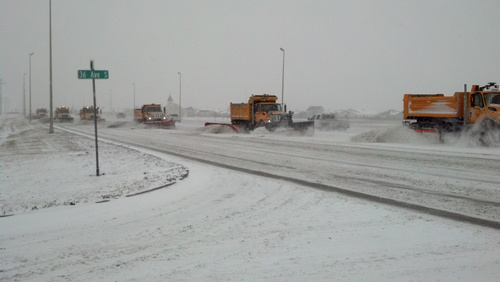 Snow Emergency Declaration
In October of 2020, a new ordinance was created, allowing the mayor to declare a snow emergency. When a snow emergency is declared, any vehicle remaining parked on the street could receive a fine of $100. Vehicle impounding will not occur unless Fargo Police finds the vehicle is creating a hazard. Parking can resume once the street has been cleared of snow or the emergency declaration has been lifted by the mayor.
Here is an outline of the new Snow Emergency Ordinance:
"Snow emergency" shall mean when four (4) or more inches of snow is forecast by the National Weather Service.
Whenever the mayor determines a snow emergency to exist, the mayor shall put into effect a parking prohibition on all roadways by declaring a snow emergency in a manner prescribed by this ordinance. While the prohibition is in effect, no person shall park or remain stopped any vehicle on any portion of any roadway in the city of Fargo.
Once in effect, a prohibition under this section shall remain in effect until terminated by announcement of the mayor in accordance with this ordinance, or until such time that the individual roadway has been cleared of snow from curb to curb for the length of the entire block. However, nothing in this section shall be construed to permit parking at any time or place where it is forbidden by any other provision of law.
The mayor shall cause each declaration made pursuant to this ordinance to be publicly announced through the Cass Clay Alerts system, by means of broadcasts or telecasts from stations with a normal operating range covering the city, on the city of Fargo website and through city of Fargo social media accounts, news media and in newspapers of general circulation, when feasible. Each announcement shall describe the action taken by the mayor including the time it became or will become effective.
Damaged Property
In our efforts to clean the public streets, we occasionally damage private property (sod, mailboxes, sprinklers, etc). If such damage occurs, please contact the Street Department to report it, and we will do our best to quickly remedy the situation.