Membrane Water Treatment Plant Project
The Fargo Water Treatment Plant (WTP) is currently being expanded to add membrane treatment technology and increase the overall WTP capacity from 30 million gallons per day (MGD) to 45 MGD.
Take a Virtual Tour of the Expansion Project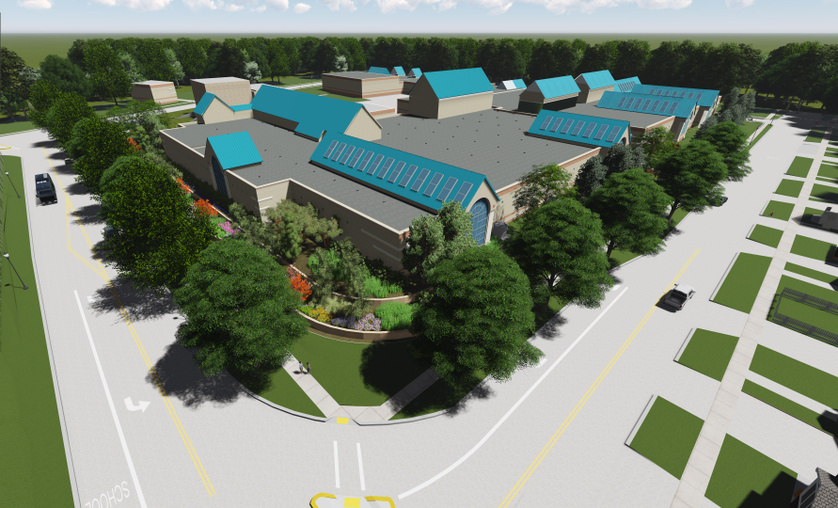 The improvements are being pursued due to water quality and quantity issues that include the following:
Devils Lake discharges (Sheyenne River sulfate and bromide concentrations)
Addition of sulfate and bromide removal technology at the WTP
Projected timeline for expanded capacity at the WTP
Proposed Red River Valley Water Supply Project (Missouri River)
The City uses both the Red River and Sheyenne River as redundant water supplies. The existing WTP incorporates conventional treatment processes comprised of pretreatment, two-stage lime softening, ozonation, dual media filtration and chloramination. The existing WTP began operating in 1997 to achieve compliance with pending drinking water regulations and to remove taste and odor compounds. Unfortunately, the treatment processes within the existing WTP do not remove sulfate or bromide. As such, the City is adding advanced membrane treatment technology to remove these compounds.
Project Overview
The project will involve the construction of a separate 15 MGD treatment train incorporating membrane technology. The new membrane treatment train will remove sulfate and bromide from the water and position the City to handle future issues that may arise associated with water quality and quantity. The project will expand the existing WTP capacity by adding a 15 MGD parallel membrane treatment train as shown on the following diagram: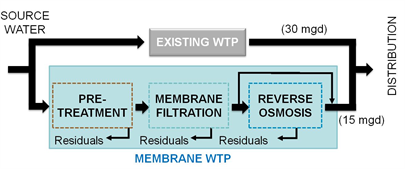 The Membrane Water Treatment Plant will be located adjacent to the existing WTP, at the southwest corner of the 13th Avenue South and 4th Street.
Timeline & Financing
Construction on the Membrane Water Treatment Plant project is currently underway with an expected completion in 2018. The project is being financed through City infrastructure sales tax and a grant from the North Dakota State Water Commission.