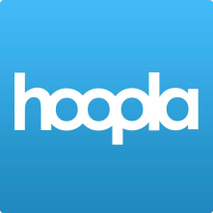 Hoopla
Hoopla Digital offers movies and a selection of streaming music for smartphones, tablets, and computers. Hoopla also has a selection of e-audiobooks and comics available.
Visit your device's app store to download the app or you use your computer's web browser. Users will register for an account with Hoopla and provide their library card at registration.
Please note: Hoopla is available to library card holders who are Fargo residents. The library card PIN requested is the same password you use to sign into the online catalog or Overdrive/Libby app.
Signing up to access Hoopla is a 3-step process:
1. Download the Hoopla app or go to hoopladigital.com.
2. Log in with your Fargo Public Library card.
3. Borrow movies, as well as e-books, e-audiobooks, comics, music and more.
Visit the Hoopla Help Center with further questions on getting started and for help with troubleshooting. Call the library's Information Desk at 701.241.1492 if you need further assistance.